Restaurant Round Up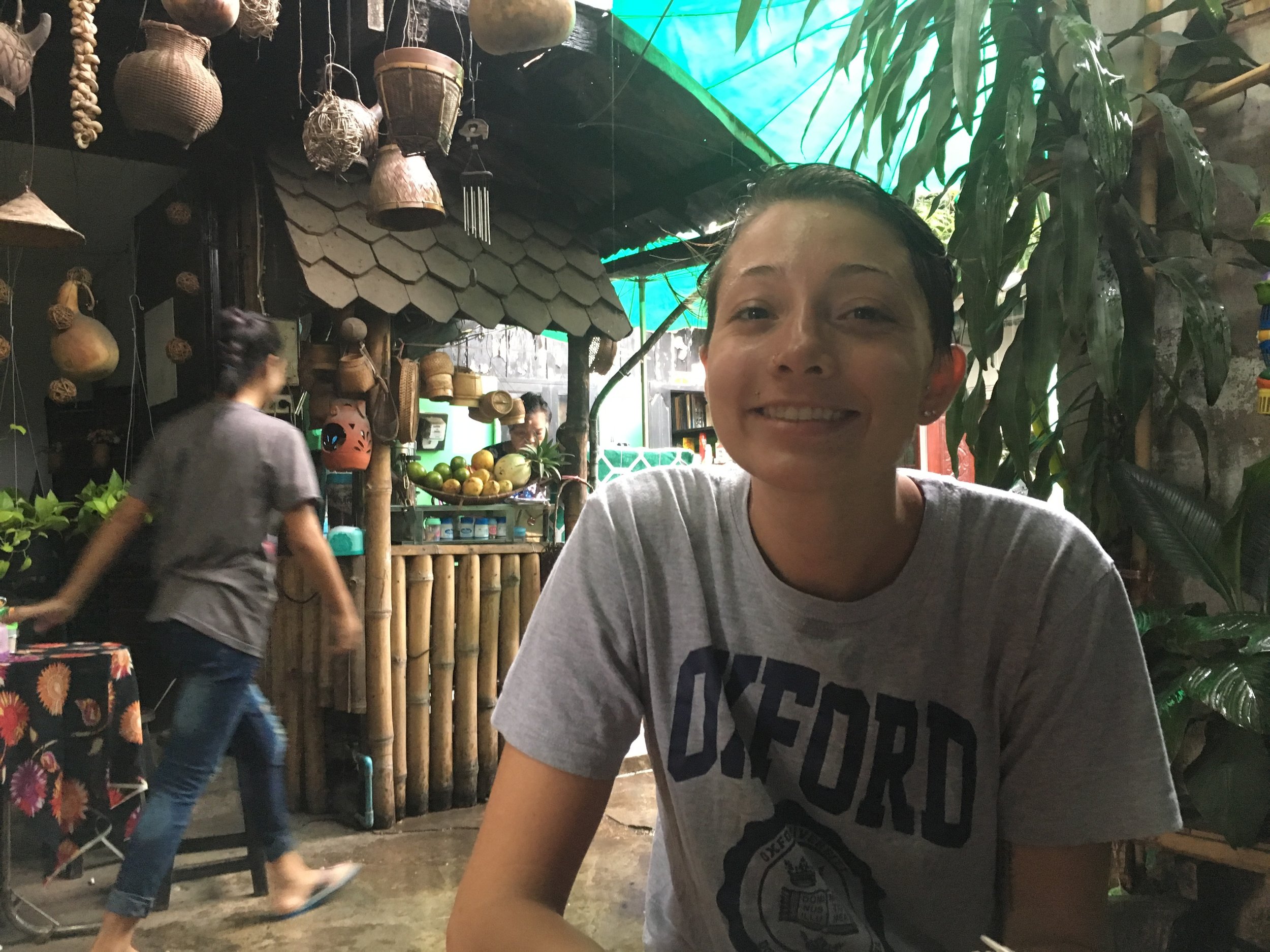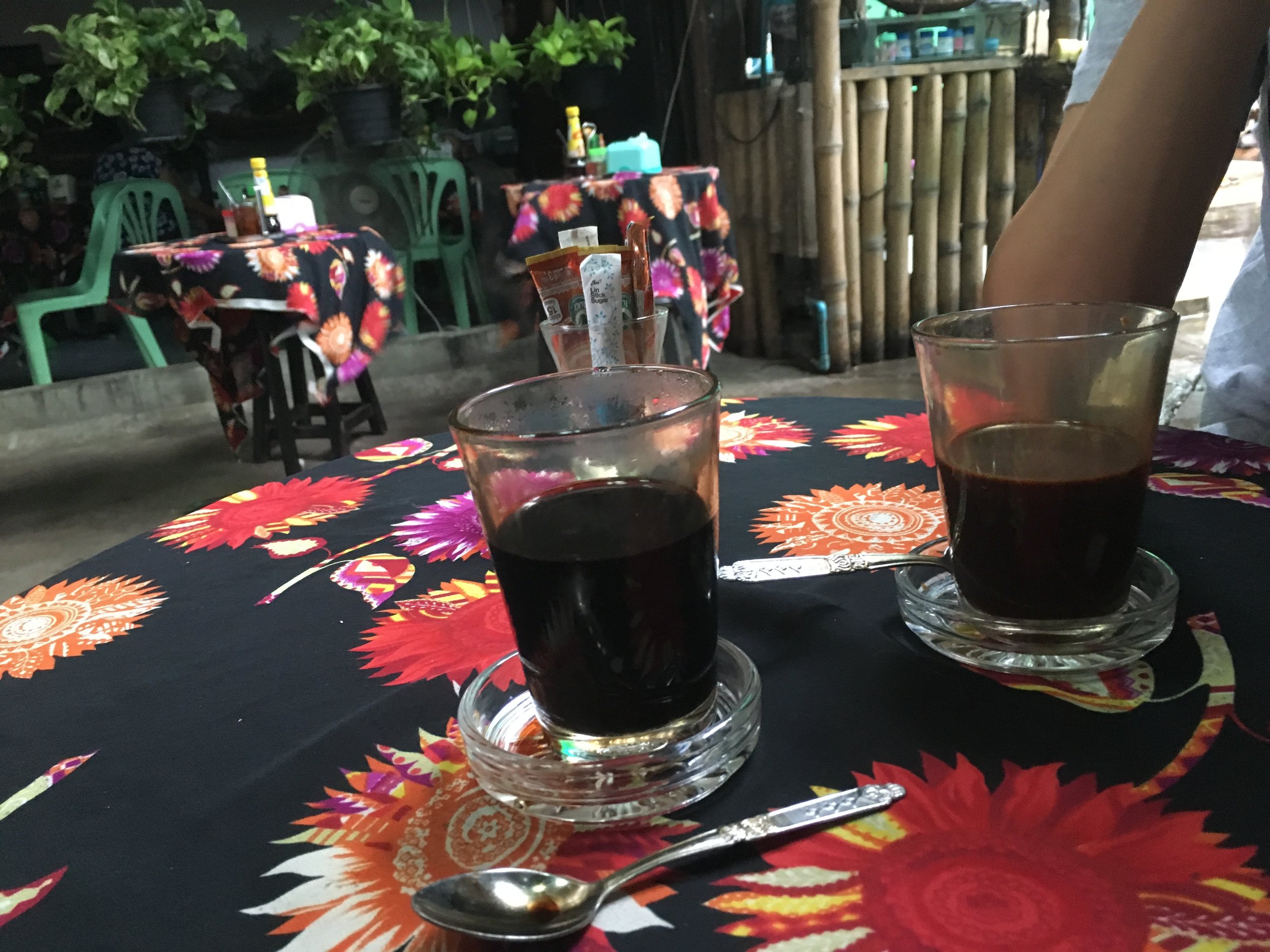 Kung's Cafe Lao (17.957361, 103.615697) is situated at the end of an ally off Is Meuang Road. The ally is lined with potted plants and colorful awnings. The al fresco covered dining room has dried gourds and snail shells hanging from the rafters and each round table is covered in a floral table cloth. On a rainy Saturday, only two other tables were full for brunch and one customer came in for take out. The ambiance was charming, the service was adequate but slow, which seems to be par for the course. Every time I want to pay for a meal here I have to hunt down a employee and pantomime paying for a bill. A hand written check is deposited on our table eventually sometimes itemized, sometimes written in Lao, and sometimes it simply comes in the form of a calculator that the server holds up showing an absurdly large number that translates to a few dollars U.S. I ordered the mango fried rice pancake and a coconut coffee which ended up being a delicious take on an iced latte slushy. My compatriots both got the banana pancakes (also fried) and hot coffee. A surprise highlight was the greenhouse/bathroom with a stone path to the toilet, elephant figurines walking through a jungle of house plants and the pitter patter of the rain on the corrugated plastic room. I didn't feel great afterwards, but I'm going to chalk it up to last night's revelries. I'd come again.
New PVO Vietnamese Food (17.959995, 102.618167) is just across from the French Clinic and was a great place to get Bo Bun noodles after being told the nurse was on lunch and we'd need to come back after 2 p.m. for our Rabies vaccine. Evidently there are two of these and there was a detailed map blown up on a plastic poster to show the locations. PVO was a very popular spot with both a ton of locals eating inside and another table of Falang (foreigners) next to us on the patio out front. Vietnamese food is some of my favorite cuisine and this place has noodles, bahn mi, soup and ice cold Pepsi (which is far more ubiquitous than Coke in Laos.)
Lao Kitchen (17.966963, 102.60569) is on Hengboun Road across from the hotel I stayed at my first two nights in Laos. I ordered stirred vegetables and rice with a beerlao to wash it down. Based on my reaction (watery eyes, itchy nose, puffy face) this vegetarian option included some sort of shrimp sauce. Just my luck. My cold beerlao glass pressed against my face helped with the swelling and after a few minutes my eyes stopped watering. Afterwards Amy very generously made me a flashcard to practice that reads: "Ka-lu-naa sai nam paa = please do not use fish sauce," "seafood = aa-ham-tha-teh," and "shrimp/prawns = kung." Everyone else seemed to enjoy their meal, so I won't dock them for my inability to communicate my food allergy.
Chez Joseph (17.966414, 102.603574) is a Lebanese restaurant on Avenue Souphanouvong. The two-story establishment has free billiards all day on the open-air second floor. I had my first beerlao at this fine establishment. Our waiter, an excellent English speaker from Morocco who had been in Laos for 6 weeks kept running across the street to another Lebanese restaurant of the same name to get our food. Evidently the kitchen is across the street. I had baba ganoush, hoummas, cucumber salad and pita bread. The second floor windows seem dangerously close to a power line overburdened by hundreds of wires that snaked around every which way. The wifi is excellent as every time I walk past the outside I get my text messages. I don't have a data plan yet in Laos and am at the mercy of WiFi at the moment.
Tyson Kitchen (17.964011, 102.60408) is run by a Lao-Canadian named, you guessed it, Tyson, who opened up this pizza and burger joint in early 2016. The staff is pleasant and very attentive. A big group of nearly 20 of us ate in the upstairs party room, each got separate checks and all got our food about the same time. Tyson is personable and calls Laos the Wild West of the restaurant business since the rules on food and liquor licensing is so lax. The veggie pizza was good. The salad consisting of ice berg lettuce, cranberries and goat cheese was mediocre at best.
Speaking of the Wild West, Black Canyon Coffee (17.967801, 102.605427) has a cowboy logo and giant sheriff's badge out front. The inside is air conditioned, has ample free WiFi and a tome of coffee drinks, ice cream and food options. Lao coffee, similar to Vietnamese coffee is super sweet and thick with condensedmilk and sugar. Some of the stands on the street also add MSG and salt to the drinks. Black Canyon Coffee's iced beverages came on coasters with a lip so the condensation ran into the coaster and not all over the table. Genius! I was so jet lagged and out of it when I visited Black Canyon, I immediately took a nap after drinking my iced Americano. It was a good one time stop. I doubt I'll be back on purpose.
Namaste India (17.968238, 102.600958) is unimpressive from the outside. Down a poorly lit side street, it looks like a big white room with a wall of windows. Un-air conditioned on the night we went, the oscillating fan was a huge life saver. Delicious garlic naan and not too spicy chicken masala for a fair price that gave me no GI issues to speak of, earned this establishment a solid B+ in my book. The service was adequate, unlimited water flowed from plastic pitchers and have I mentioned the delicious garlic naan? I have a sneaking suspicion I'll be back.
Joma Cafe (17.964488, 102.607111 downtown, but there are other locations as well) is run by a Canadian couple and makes all their own bagels. Who would have thought I'd been eating lox in Vientiane? Not me. They locally source or make as much of their ingredients as possible and have a mission to help the community by training and employing low skilled workers in hospitality. While the prices are higher (around $8 USD for a bagel sandwich and dragonfruit smoothie) I wasn't opposed to paying more knowing the mission. The coffee shop is cute, full of art and has an upstairs and downstairs. Credit cards are accepted and customers get a numbered signs to alert the servers where one is sitting when the order is ready. Joma sells bagels by the dozen to take home as well. WiFi is rationed and a one time use code is given out when you buy something. My bagel sandwich was delicious and came with cut up dragon fruit slices. However, I would opt for a different flavored smoothie next time.